A Funny Side Of Life
Just a few funnies to lighten the mood! Enjoy
+++++++++++++++++++++++++++++++++++
Some guy bought a new fridge for his house.
To get rid of his old fridge, he put it in his front
yard and hung a sign on it saying:
'Free to good home. You want it, you take it.'
For three days the fridge sat there without
anyone looking twice.
He eventually decided that people were too
mistrustful of this deal.
So he changed the sign to read:
'Fridge for sale $50.'
The next day someone stole it!
***They walk among us!***
-------------------------------------
I couldn't find my luggage at the airport
baggage area and went to the lost luggage
office and reported the loss.
The woman there smiled and told me not to
worry because she was a trained professional
and said I was in good hands.
'Now,' she asked me, 'Has your plane arrived yet?'
***They Walk Among Us!***
------------------------------------------------
While working at a pizza parlor I observed
a man ordering a small pizza to go.
He appeared to be alone and the cook asked
him if he would like it cut into 4 pieces or 6.
He thought about it for some time
Then said 'Just cut it into 4 pieces; I don't
think I'm hungry
enough to eat 6 pieces.
***They Walk Among Us!***
­­­­______________________________________
Traffic Camera
A man was driving when he saw the flash of
a traffic camera. He figured that his picture had
been taken for exceeding the limit, even though
he knew that he was not speeding.
Just to be sure, he went around the block
and passed the same spot, driving even more
slowly, but again the camera flashed.
Now he began to think that this was quite funny,
so he drove even slower as he passed the area
again, but the traffic camera again flashed.
He tried a fourth time with the same result.
He did this a fifth time and was now laughing
when the camera flashed as he rolled past,
this time at a snail's pace.
Two weeks later, he got five tickets in the mail
for driving without a seat belt.
***You can't fix stupid.***
This chuckle submitted by: Ron Cooks of The Real Estate Market Place – Servicing the Greater Fort Hood area which includes: Killeen, Harker Heights, Temple, Belton, Copperas Cove and Nolanville. Feel free to call Ron at(254) 702-0064 if you have any questions regarding Central Texas Real Estate.

For Real Estate Listings in Central Texas visit my website at: www.ron.killeenlistings.com or if you're on the go text 'Ron' to 254-227-5799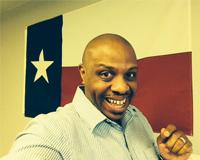 Author:
Ron Cooks
Phone:
254-702-0064
Dated:
November 16th 2015
Views:
405
About Ron: I'm a retired Army Warrant Officer that served our nation for 25 years. I was born and reared in ...