A Spectacular Creation Of God
A few weeks back, my sweet daughter Aly was having a tough time in school. It seems that some kids were picking on her and calling her, "nerd."

Now, full disclosure: obviously, this is my daughter, and I think the world of her. She is, literally, brilliant. She's hilarious, witty, fun, and fiercely loving. She is also beautiful in every sense of the word, inside and out. I can barely think about her without a big smile coming to my face and if I think of her too much, I'll get a tear in my eye. She is truly wonderful.

Now back to the kids at school. Kids can be viciously mean. When I think of them trying to hurt my baby girl, it makes me see red, and I really want a chance to give them an attitude adjustment…but that wouldn't do too much to help things. The thing I realized that would do the most good would be to go directly to my daughter and help her to deal with the inevitable hurts and criticisms that always happen in life (no matter what age we are).

I woke one day during this time, and Aly's situation was heavily on my mind. I thought of it immediately when I woke, and I had probably even dreamt about it. There was one overriding thought in my mind about Aly.

"You are a SPECTACULAR creation of God."

I took my girls to school that day, but I didn't really talk to Aly too much about it while her sister and friend were in the car. I planned to keep her in the car with me after the others left, but she didn't give me a chance. She just hopped out, and took off into the doors with her big backpack . Yet that thought burned in my mind and I had to tell her. I decided that I needed to take her to lunch that day and have the talk.

So, after working that morning, I drove back to her school and got to take her out of school for a while. We got her favorite meal (junior breakfast burritos from Sonic for some strange reason), and parked overlooking the beautiful creek that runs through my village. There, on that wonderful morning we had the talk. I told her the thought that I had with her. I made her memorize it and say it back to me:

"I am a SPECTACULAR creation of God."

I told her what I think that meant, and why no one, NO ONE should ever make her feel inferior. If you know the special blood that flows through your veins, and the divine precision with which you were made then you would hold your head high. You were created for great things in this life. You were given potential to do anything! We both shed a tear, and I could tell that the time I spent with her meant a lot to her–and it meant everything to me. There was nothing more important that I could do with my time that day. I knew it was special, and I took a picture so I could remember it more vividly.

Here's the kicker:

We are ALL spectacular creations of God. We are all given so much potential and ability. We are divine in our design, and can do so much more than we are led to believe in our everyday lives. We all have down times in our lives. When we feel inferior, or not up to the task of extraordinary living…we need to remember that we were all given a wonderful ability. The power of our minds and soul are truly infinite. Keep that in mind when you are feeling weak, or when others make you feel inadequate.

I am a spectacular creation of God.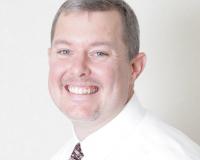 Author:
Chip Franks
Phone:
254-291-1337
Dated:
July 9th 2013
Views:
2,125
About Chip: The Supreme Commander of The Real Estate MarketPlace and A Good Guy, In General! Ron "Chip" Frank...