What Is Your Excuse
Well, Happy New Year! As I write this blog, it's January 6th, 2014.

Awww, it's a new year and there's a new beginning to things. It's the time of year that we set 'resolutions,' and feel really good for a few days/weeks until we don't stick to them. It's the same old, same old. And most of us have probably done it many times, the way, expecting a different result.

Well, over 80% of people that set resolutions don't make it past two weeks of their new, desired behavior.

The question I have for ALL of us--me included, mind you--is:

What's Your Excuse?

Why aren't you going after and accomplishing your goals and resolutions? Is there a real reason holding you back? Is it something tangible?

Is it because you don't think you're smart enough?

Is it because you don't think you have enough discipline?

Do you blame it on your mindset, or the way that you were raised?

Well, I'm here to tell you that all of that is BS.

It's been said that whatever the human mind can conceive, it can achieve. I believe this, and if your goal has been put into your head then it's meant to be brought to fruition.

Here's why I think we tend to fail at these: our "Why?" just isn't strong enough.

My Mentor told me, "When the 'Why' is strong enough, the 'How' gets easier." Just think about this, if you were told that you'd only live three more years unless you went on a strict vegan diet, would you fail in your diet? Of course not. You'd do it. Grudgingly, probably because cheeseburgers are really, really good--but you'd get it done.

So, here's my challenge to you: don't just think about your resolutions. Write down your GOALS. Write them present tense, as if you've already accomplished them.

"I weigh 175 pounds at 12% bodyfat."

"I earned $150,000 this year."

Then, and this is the even more important part: write out your, "Why" (hopefully several of them) for why this MUST be done.

This is a real exercise, and I bet upon doing it--you're much more likely to accomplish your goals. Thanks for your time, and I look forward to hearing from you as you conquer them!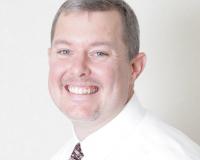 Author:
Chip Franks
Phone:
254-291-1337
Dated:
January 6th 2014
Views:
4,879
About Chip: The Supreme Commander of The Real Estate MarketPlace and A Good Guy, In General! Ron "Chip" Frank...